A young man, Sameer, returns to his hometown, and is reunited with his childhood love, Kiran. While returning, he finds out about Chandangarh, where rumors are rife that dead bodies disappear. He is then introduced to a strange doctor, Vishal, who has an alcoholic wife and goes to meet women in the night. It is rumored that he steals dead bodies from the cemetery and uses them for his mad experiments.
Sameer decides to investigate the dead bodies being stolen from the cemetery. In the cemetery, he has a scuffle with a strange, masked man and he arrests a man who seems to be mute. However, the mute is found dead in the police station.
Sameer thinks that Dr. Vishal and the mute have some connection, and decides to investigate the mansion in which Dr. Vishal stays secretly. However, he is found out and Dr. Vishal tells him about his plans and even invites him to see his experiments.
While all this going on, Dr Vishal's wife sees the illegal experiments that he has been carrying out on the various animals that he has procured from the Government hospital.
Things take a horrible turn when Dr. Vishal's experiments work negatively on him,and he slowly becomes more powerful and grotesque. He kills a group of people who were acting fresh with a girl at a bar. He quickly develops an antidote, but his wife finds out his secret and destroys all the antidote. She injects him with bat poison and he kills her in a fit of rage. But before that, he calls up Sameer's house to tell him about the incident. Kiran takes the call, and Vishal tells her that he is very ill and needs help, Kiran reaches the house, and Vishal hurries to hide his wife's body. He tells her to leave when he sees her, but before she leaves, she sees a strange masked man leaving the house and follows him. When Sameer reaches home, he gets the message and he leaves to meet Kiran too.
When he cannot find her, he lodges a police complaint. Dr. Vishal calls up the police station and tells them to come to the graveyard, where he has captured Kiran. The police and Sameer track him down to a disco, and the police finally find Kiran. One lone police officer confronts Dr.Vishal, but by now he has changed fully.
Dr. Vishal is finally overpowered by the policemen and sent to the hospital, where Sameer tries to diagnose him. However, a journalist breaks into the hospital at night, when Dr. Vishal has transformed completely. He now kidnaps Kiran again and there is a major confrontation. The police finally confront and shoot him down.
Dahshat stars some major stars from a time forgotten and is one of the few Sci Fi movies that are around. Here are the top three reasons why you should watch Dahshat as soon as possible;
#3 Sarika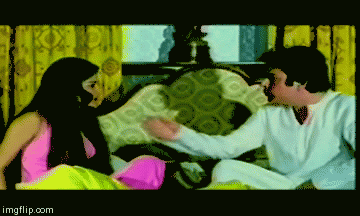 Many Bollywood fans say that Sarika was one of the few actresses who did not sign as many movies as she should. Better known as Kamal Hassan's wife, she became a minor comeback in the suspense movie Manorama Six Feet Under, which is one of the best thriller movies Bollywood has ever made. In Dahshat, she's not only in a starring role but also has a rain song.
#4 Om Shivpuri
Probably the only movie in which Om Shivpuri plays a main character as well as negative role. He might have played a staid villain in a couple of the golden decade of movies, but we are sure he has never had such a major role as he has in Dahshat.
#3 Indian SciFi
This is a rare movie, because it has a trifecta of rarities. It has Sarika, which is rare. It has Om Shivpuri as a main antagonist, which is again rare, and this is a sci fi movie, made by the Ramsay clan. This movie has a doctor experimenting on dead bodies and using surgery to revive patients. There is no chudail, no mahal, just modern science gone wrong.