A group of people usurp an old mansion, and drive anyone who comes there by scaring them. The police now send their best inspector, Vikram to investigate. The head of the group of people who have usurped the mansion is Raja. Vikram tells the Commissioner, but the Commissioner tells him to take his time in arresting him.
Raja continues his killing ways, and kills one more girl, after she tells him that she is pregnant with their child. Vikram is in love with the Commissioner's daughter, Shilpa.
Meanwhile, one of Raja's girlfriends, Roshni starts stalking him, and threatens him with death. Raja has no option but to marry her. He tries to kill her that night, but her brother, Suraj saves her. Raja and his friends beat up the brother, and sexually assault Roshni. The sister escapes and goes to a Minister, and we find out that Raja is the Minister's son. Later on, we find out that both Roshni and Suraj have committed suicide.
Now, one of the girls who was killed by Raja, becomes a spirit and reaches a tantrik, and tells him that she wishes to avenge her death. The tantrik tells her to have intercourse with another spirit, and remain his mistress once she avenges her death.
Now that the spirit moves all over the town, Vikram and Shilpa go to a tantrik, telling him about Roshni's death. The tantrik tells them that Roshni's death was unfortunate and was waiting to avenge its death, and therefore a tantrik has taken it under his command. He tells her that the tantrik that has taken her under his command has a magical trishul (trident) that is very powerful.
The spirit now takes the form of Shilpa, and she is sent to a psychiatrist, A. Dhawan. But before the doctor can do anything, the spirit starts killing Raja's group members one by one. Finally, it starts stalking Raja's father and tries to kill him during an interview that he gives. However, she cannot enter the place where he is giving an interview, so she seduces Raja to take her to the place. There, she kills both father and son, and afterwards, Vikram shuts down the spirit with the magical trident.
Daravani Haveli is a small time movie with only a couple of actors who are even known beyond the film circuit. We guess that almost the entire lead was either debuting with this one or atleast somewhere nearby. Here are the three reasons you should definitely visit this Darawani Haveli atleast once in your life.
#3 The Timeadder
Ever heard of timesavers, well, when you watch such movies, you will experience the timeadders. Now, we are no movie experts, but with our experience of watching low budget movies, we think that the Censor Board of India has a requisite runtime for all movies, whether it is Sark Kati Laash or DDLJ. That could be one of the reasons why we see comedy tracks, unnecessary songs and love tracks in several movies. In this one, there's this timeadder about two people trying to win a police reward, and a conman hoodwinking them twice.
#2 The Villain Channeling the beloved 'Kaka'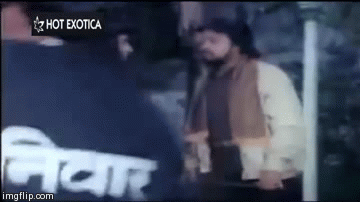 Actors looking strikingly similar to other actors being hired for this simple fact is not very rare, and here the actor who is playing the villain seems to be channeling Rajesh Khanna. Well, he has atleast been given the same getup that Kaka had for a small while. Not to think that Kaka has never acted in a movie like this, he has once acted in a movie called Red Rose. We are looking for a print for that too.
#3 The CGI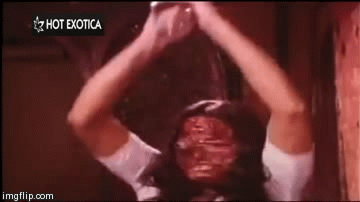 Or protesthetic, or whatever you call it, but by now we should be quite expectant of a blood red face working out as a zombie in Bollywood Horror Movies. You gotta watch this movie.